What's New and Cool
Page 3
The Beatles, according to legend, had several Epiphone Casios. At the time the P-90 pickups were a huge part of rock N roll. Today I have mine no more than 3 feet away at all times. I hot rodded my Casino with a Roland GK3 pickup, which, through my VG99, can create just about any tone out there, and play my MIDI synths as well.

Coming Soon to zZounds
Apogee Ensemble FireWire Audio Interface
and the
Cakewalk Sonar V-Studio 700 Recording System
due Mar 25 at zZounds
Roland MV8800 Production Studio
Tweak: Super deals on B-stock and Warehouse resealed.

Session Standard Bundle: includes Tascam Meter Bridge and MKII Firewire Card, Hosa snakes, connection cables and much more. Tweak: The Session standard bundle includes all the extras you'll probably want if you get a DM3200
Tascam DM3200 with Session Standard Bundle

Dynaudio Acoustics BM5A Active Nearfield Monitor
6.9 in. polypropylene woofer; 1.1 in. soft dome tweeter. 100 watts.
Tweak: Step up to the big league. Check the price. Its better than you think!

Huge Price Cuts on Beautiful
Gibson Electric, Acoustic and
Electric/Acoustic Guitars
page 1 page 2 page 3 page 4 page 5 page 6

Tweak: Perhaps the world's easiest-to-use Firewire Interface (replaces all the functions of your soundcard as it adds higher quality inputs and outputs). You can plug a microphone or a guitar or bass or keyboard into those front panel "combo" jacks. Your active monitors connect on the back. Also on the back you can connect a 2 channel line level device, like a synth, or a guitar processor like the Pods. You get a stereo s/pdif (digital) in and out for the perfect transfers from other gear you have with digital i/o.

Try out some of the entry level sequencers (recording software) included. The firebox is a great way to get started as a computer assisted composer or producer. And they just lowered the price from $300 to $250. Add your computer (must have firewire) an inexpensive keyboard controller and some powered monitors (or connect it to a hi-fi) and you have your own recording studio that you can make multi-track music on all night long. Click the pic.

The sound of the classic SSL E Series console in a rack. The E-Signature Channel offers two distinctive Eq options coupled with the most musical dynamics processor available in either the analogue or digital domain. With the addition of the 'no holds barred' sound of an SSL 'Listen Mic' compressor and the new ground breaking tube emulation preamp option, the E-Strip delivers a front end with the versatility and flexibility to capture and enhance any musical performance that needs a distinctive 'vintage' character

zZounds now carries Redmatica Software for Logic's EXS Sampler. Check out EXS Manager, Keymap, and AutoSampler or get all 3 at a special price
iZotope RX Complete Audio Restoration Software
iZotope RX is the most complete audio restoration product on the market. This standalone application combats a range of audio problems via innovative restoration modules, detailed analysis tools and time-saving workflow features. Ideal for archiving, recording, mastering, broadcasting, podcasting, video production and forensics.
Waldorf Blofeld Desktop Synthesizer Module
Waldorf is back in the game. With the Blofeld. This synthesizer offers all the unique qualities that made Waldorf a truly legendary brand. The engine inside the heavy duty, full metal chassis of the Blofeld delivers the same fat and rich sound that so many Waldorf users worldwide love when they play their Pulse, Q, Q+, Micro Q, Microwave, Microwave II/XT, or even the flagship Wave.
Access Virus TI Snow Virtual Analog Desktop Synth
The Access Virus TI Snow Synthesizer Module delivers the same sound engine as its big brothers in a compact size. The intuitive design makes selecting and editing more than 6000 patches from well-known sound designers a breeze. The Virus TI Snow also lets you experience the best of both the hardware and the software worlds by incorporating the award winning Total Integration technology to seamlessly link the Snow with your sequencer. The Snow comes with a fashionable carrying bag for easy transport to your gigs. You get all this at a price unheard of for a synth of this quality - It's like getting a sports car for the price of a scooter.
Allen and Heath ZED14 Mixer with USB Interface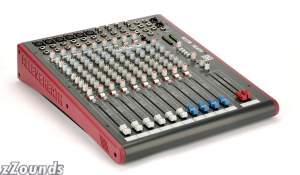 Tweak:

Price was just reduced. Was $449 now $399. 100mm faders. 69 db gain range on the pres, tweakable EQ, 4 aux sends. USB routing to/from computer. Routing is flexible to accommodate several types of rigs. I think its a great way to start or expand a home rig. Compare to the Mackie 1402VLZ3 Does the Zed take the crown in this under $500 category? Take/view our poll Comes with Sonar LE. You can use the Zed as your audio interface if you connect by USB.



Yamaha N12 12-Channel Digital Mixer with Firewire Interface
The Yamaha N12 Digital Mixing Studio is a mixing console with an analog-like mixing interface which boasts ease of operation for professional quality recording and mixdown. Connecting a computer to the mixer's IEEE 1394 port enables you to configure an ideal recording environment with seamless integration into Cubase 4.



Tweak:

The N12 is new and in its own class. It is not only a mixer, but an audio interface as well, designed to work with Cubase 4. Basically what we have here is a 12x4 analog mixer joined with a 16x16 firewire audio interface. 8 preamps.

I think we are going to see the trend continue to have mixer and audio interfaces combined. What is exciting here is that you can actually route 10 tracks from Cubase over firewire and mix them on the 10 faders you see.
Zoom HD16CD Multi-Track Recording Studio
The Zoom HD16 gives you versatile, intuitive multi-track recording with a clear, intuitive interface. You can send your recorded WAV files to the included DAW software in your computer via its USB connection. Then, use the unit as a control surface to adjust, fade, pan and mix every aspect of your project. Recording, arranging, mixing and mastering has never been easier or more immediate.
Tascam US1641 USB 2.0 Audio/MIDI Interface With sixteen inputs, the TASCAM US-1641 is the ideal choice for musicians to record the whole band to a computer.
Tweak:

Its New at zZounds. Has drivers for XP, Vista, OSX. USB2.0 16 simultaneous inputs! (14 analog + s/pdif)



Roland VG99 V-Guitar System
In the history of guitar modeling, no manufacturer has devoted more time, resources and passion into this market segment than Roland -- from the world's first guitar modeling processor, the legendary VG-8, to its popular V-Guitar predecessors. Today, Roland proudly announces another milestone in guitar modeling and performance technology: the VG-99.
Tweak

now has it.
Apple Logic Studio
Introducing Logic Studio, Apple's comprehensive suite of professional tools that provides musicians with everything they need to create in the studio, on the stage, and for the screen. Logic Studio includes Logic Pro 8, Apple's professional music application; MainStage, an innovative new application for music performance; and Soundtrack Pro 2 for audio post-production. It also includes acclaimed instruments, professional effects, an expanded sound library, and new production utilities—all in a single box at an incredible price.
Tweak Sez:

It's a BreakThrough! Logic Pro 8 is here in Apple's new Logic Studio. Read about Logic's History from the beginning. Tweak's Review of Logic Pro 8.







Native Instruments NI Komplete Bundle (Macintosh and Windows)
KOMPLETE 5 is the high-end collection of 11 ground-breaking synthesizers, samplers, emulations, and a virtual guitar studio. Perfect for both studio and stage - this is the industry-standard bundle for serious musicians, producers and sound designers. KOMPLETE 5's instruments can be heard on platinum-selling records and in underground clubs alike, all over the world.
Violet Design Black Knight Cardioid Condenser Microphone
The Black Knight uses a large dual diaphragm capsule and is designed for detailed and neutral sound - with transparent highs, smooth midrange with minimal presence and close to flat low-end response. It has a unidirectional cardioid polar pattern.
---
BLUE BlueBird Cardioid Studio Condenser Microphone
With its unique look and highly versatile performance, the Bluebird has been designed to deliver the same high-quality, no-compromise audio that Blue users have come to expect. The Bluebird is a large-diaphragm cardioid condenser, utilizing Blue's renowned microphone technology and Class-A discrete circuit.
Cakewalk SONAR Studio Recording Software (Version 7)
Don't sacrifice features for affordability. SONAR 7 Studio Edition offers the best creative tools, and the most power of any digital audio workstation in its price range. Built upon the same core feature set as SONAR 7 Producer Edition, SONAR 7 Studio Edition gives you the edge in your productions from recording audio and MIDI, composing with virtual instruments, remixing with loops, mixing with professional effects, to delivery of a polished final track with the recognized best audio quality of the industry.
Fostex FR2LE High Definition Field Recorder
With a location recording pedigree which includes the original portable timecode DAT machines (PD-2, PD-4), and more recently the innovative PD-6 DVD-RAM recorder, it was only natural that Fostex should develop the FR-2, the acclaimed professional CompactFlash-based field recorder. Tweak: One of many options for recording outside the studio. The FR2LE is part of the trend towards higher quality with lower costs. More Options