New Products
in the Pipeline
Page 8

News From Winter Namm 2006
Discuss the latest Namm releases in the New Gear pre-release Forum
Tweak's Take: The most significant thing is the unbelievable amount of low cost to mid cost new gear. This is going to wake up the music stores with new products by the tonnage. Lots more USB interfacing to computers on mixers, keyboards, multitracks. Many of the keyboards below can be edited inside a DAW (some as a plugin). New (and older expensive) synthesis technologies are trickling down at last. Also, note the tremendous movement towards podcasting.
Roland http://www.rolandus.com
Roland VP-550 Vocal Designer Keyboard
Get a Price: Roland VP550 49-Key Vocal Designer Keyboard
Connect a mic, select a sound, and play. You won't believe what can come out of this instrument: spectacular classical choirs, soulful gospel choirs, pop and jazz voices, male & female ensembles, vintage vocoder, and lush string/vocal hybrids. A great addition for lounge musicians playing at bars and hotels. Tweak: Looks mighty interesting. Roland has been working vocal modeling a long time, but at high prices.
Generate expressive, interactive backing vocals in real time

Vocal Designer types: Classical, Gospel, Pops, Male/Female, vocoder

Ensemble types: mixed chorus, jazz scat, boy's choir, humming, full strings, slow strings

Play Vocal Designer and Ensemble sounds simultaneously

Exceptionally user-friendly operation

Invisible D Beam infrared controller for high-impact performance

Roland Juno G
Get a Price: Roland Juno-G 61-Key Synthesizer Keyboard
True to its heritage, the new JUNO-G is affordable and user-friendly. But that's where the comparisons to yesteryear end. This modern marvel packs a studio's worth of sound, sequencing, and audio recording into one amazing instrument. Tweak: 128 voices, audio/midi recorder, 1 SRX slot, d Beam, USB, Sonar LE
Powerful "Fantom-X-quality" sound engine, 128-voice polyphony
Audio/MIDI multitrack recorder with dedicated transport controls and mixer
SRX slot for expanding the internal soundset
Large, friendly display and front-panel controls
Arpeggiator, Chord Memory, and multi-effects built in
USB port for MIDI communication, AIF/WAV file exchange, and data transfer
PC Card slot (which accepts CompactFlash or SmartMedia cards via adapter)
Cakewalk SONAR LE software CD-ROM bundled
Invisible infrared D Beam controller
MC808 GrooveBox
Get a Price: Roland MC808 Sampling Groovebox
With Roland's most sophisticated processor at its core, the MC-808 has top-of-the-line sampling, sequencing, and synthesizer functions, yet it comes in at a new, low price point. For beat-makers, producers, remixers, live performers, and DJs, no sampling groovebox offers more bang for the buck than the MC-808. Tweak: 128 voices, motorized faders, CF slot USB D Beam. More info
8 motorized faders — a groovebox first
Same powerful sampling & sequencing features as MC-909
Brand new sounds and patterns
128-voice polyphony
CompactFlash slot for memory backup
USB for storage and AIF/WAV file import and export
16-step pad bank, D Beam controller
Editor software included (PC/Mac)
Edirol R-09 Wav/Mp3 Portable Recorder
Get a price: Edirol R09 24-Bit WAV and MP3 Recorder
Building on the success of the R-1, the R-09 takes many of the most desired features — 24-bit uncompressed recording and a built-in stereo mic — and shrinks it all down into a more streamlined, stylish, and affordable package.
Roland SH-201 Synthesizer
If you're new to synthesizers, meet the most friendly and fun analog-modeling instrument on the market: the Roland SH-201. If you're a synth pro, the SH-201 will remind you of why you fell in love with synthesizers in the first place. Tweak: "VSTi Editor Software included for computer integration", they say. Now they are talkin'!
Great-sounding analog-modeling synth
Ultra-EZ front panel is logically designed to teach the basics of synthesis
External input for manipulating external audio from CD/MP3 players, etc.
Built-in delay, reverb, and saturation effects
Arpeggiator adds instant rhythmic motion to sounds
USB port for audio/MIDI connection to computer
VSTi Editor software included for computer integration
Invisible infrared D Beam controller
RC-50 Loop Station
get a price: Boss RC50 Stereo Loop Station Pedal
Housed in a spacious seven-footswitch floor unit, the RC-50 lets you manipulate three stereo phrase tracks simultaneously. Each track supports multiple overdubs, so phrases can be stacked one by one on each track, resulting in a monstrous layer of looped phrases. Tweak: Possibilities are monstrous for live shows
The new industry-leading looping tool for live performance!
7 footswitches for intuitive control; realtime control of playback speed
Play up to 3 stereo phrase tracks simultaneously, all synced to an internal or MIDI clock
Ultra-long recording time (up to 49 min., mono), 99 patches (3 master loops per patch)
Undo/Redo function for recording and overdubbing
Center-cancellation feature, "flat" amplifier simulation feature
Stereo input, dual stereo output, XLR phantom-powered mic input, stereo mini-jack Aux input (for recording from an MP3 players, etc.)
USB port for data/audio backup, import/export of loops as WAV files
BR-600 Digital Recorder
get a price: Boss BR600 8-Track Digital Recorder
8 simultaneous playback tracks, 64 V-Tracks
CompactFlash memory card slot for storing recording media; 128MB card included
Bullt-in FX processor, including pitch corrector and COSM amp models
Built-in drum-machine with velocity-sensitive pads
Built-in stereo mic and battery power to record anywhere
USB for data transfer/computer connectivity
Portable and ultra slim: 257 x 182 x 23mm
Carrying case and XLR-to-1/4" mic cable included
---
Korg http://www.korg.com
D888 Digital Recording Studio
A new and unique model has joined Korg's D-series of digital recorders - acclaimed for their high audio quality and easy operation. The user-friendly presentation of the D888 is familiar to anyone who has ever sat in front of a traditional analog mixer. Yet lurking inside this eight input/eight output mixer is a complete eight track digital recorder. Tweak: I like the idea here--get rid of as many menus as you can and just make a satisfying interface. More info
Highlights:
40-bit, 44.1 kHz processing for a clean audio signal that surpasses CD quality.

Eight-track simultaneous recording

internal 40GB hard drive
X-50
Introducing the new X50 music synthesizer; packed with Korg's distinctive and world-renown sounds, designed for easy and intuitive operation, and with an ultra-light and compact design that's ideal for the active musician. Tweak: Appears to be a budget Triton. Note the two cool features I highlighted below.
512 professional-quality sound programs produced by the HI synthesis system used on the world-famous TRITON series.
384 combinations, each allowing up to eight programs to be freely combined to create complex sounds.Multi Mode allows the X50 to be played from your external sequencer as a 16-part multi-timbral sound module.
Powerful effect section with four processors (one insert effect, two master effects, one master EQ).
Four-channel audio output (two main channels, two individual channels), a first in its class.
Dual polyphonic arpeggiator for even more
musical enjoyment.
USB connector allows single-cable MIDI connection with your computer.
Stand-alone and innovative plug-in sound editing software is included, allowing you to tweak and program the X-50, even within your DAW software

Radias
get a price: Korg Radias 49-Key Virtual Analog Synthesizer
Based on Korg's cutting-edge MMT engine, this 24-voice synthesizer offers a variety of synthesis algorithms together with multiple effects, new comb filter and wave shaping features, modulation sequencing, as well as new formant-motion vocoding. Tweak: There is also a rack version coming. Read more about this one here
microX Music Synthesizer
A compact and portable synthesizer that delivers plenty of sonic power, advanced control, and up-to-date integration with computer-based music systems. Tweak: Appears to be a different sound set using the Triton architecture. A lot for a small package.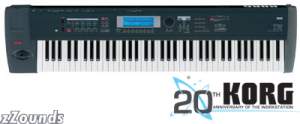 Get a price: Korg TR76 76-Key Synth Workstation
Start with Korg's proven Hyper Integrated sound engine – the synthesis system that has made the TRITON a world-wide standard. Add in a comprehensive 64 MB ROM which includes many new sounds - as well as Korg classics. Bring it all up-to-date with totally new features including USB MIDI capabilities and reliable, portable SD card data storage. Package it all in a sleek black body housing Korg's classic 16-track sequencer, superb effects engine, and top it off with a clear and user-friendly interface. Tweak: Perhaps coming in as a replacement for the triton LE
The new sampled waveforms include stereo-sampled piano (taken from the same sampling session as used on the OASYS!), electric piano, nylon-string guitar, acoustic guitar and strings. With multi-level dynamics and natural instrument articulations and vibrato, these waveforms produce expressive and realistic sounds.
It boasts 64 MB of PCM data
62 voices
USB Connector
SD card slot
Optional EXB-SMPL sampling upgrade option board
---
Universal Audio
Roland RE-201 Space Echo for UAD-1
In 1973, Roland created the Space Echo® system that utilized multiple play heads to create warm, highly adjustable echo effects, which added wonderful tape character and chaos to performances and recordings. Universal Audio has been entrusted by Roland to re-create the highly beloved RE-201 unit, spending over a year developing our RE-201 Space Echo, which truly captures the physical behaviour of this complex device "warts and all", down to the distortion, wow and flutter, pitch shifting, and warmth that tape based delays are famous for; but our plug-in goes even further, capturing the complex self-oscillation that makes the Space Echo more than an effect, but a unique instrument unto itself. Tweak: This one will be hard to resist. It will be available as a version 4.2 upgrade to the UAD-1.
---
---
GGo To Page: 1 2 3 4 5 6 7 8 9 10 11 12 13 14 15 16 17 18