New Products
in the Pipeline Page 5
Winter Namm 2007, Continued
Mackie
Proprietary Mackie communication protocol for seamless music production software integration
100mm touch-sensitive optical Penny + Giles motorized faders
V-Pot control over software, plug-in effects and virtual instruments
More than 50 dedicated push-buttons for fine control of software parameters
Tape-style transport controls
Full meter display with track names and parameters
Quick cursor-style buttons for Up, Down, Left, Right and Zoom
Onboard USB MIDI interface for direct connection to Mac or PC and up to 3 additional pieces of external MIDI gear
Software-specific Lexan overlays included
Expandable via optional Mackie Control Extender Pro and C4 Pro modules
Tweak: Is there anything new here other than USB MIDI and the additional MIDI i/o and the paint job?
Mackie 1604VLZ3 16-Channel Mixer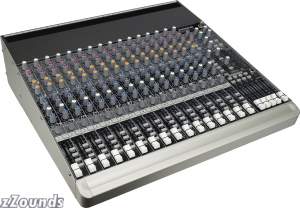 Mackie has replaced its old VLZ Pro line with the VLZ3 line
The Mackie 1604-VLZ3 Premium 16-Channel/4-Bus Compact Mixer builds on the legacy of the world?s best-selling mixer, the 1604-VLZ Pro. Sixteen studio-quality XDR2 second-generation mic preamps, along with redesigned 3-band Active EQ circuitry (with sweepable mids), give the 1604-VLZ3 its greatly enhanced sound quality. All channels feature insert points and line-level inputs for extreme versatility.
Alesis
Master Control Firewire Audio Interface/Control Surface
8 Built-in analog inputs – 2 XLR mic preamp inputs with Phantom Power and channel inserts, 6 TRS 1/4" line inputs
192kHz analog recording / playback capability
6 analog outputs – configurable as discrete, 5.1 Surround, or Stereo X 3, with dedicated speaker switching
Nine 100mm motorized faders and eight 360° virtual assignable knobs (three banks each) Provides instant access to 28 different parameters on every DAW channel
2 banks of 8 fully-assignable buttons provide 16 different functions per preset (setting markers and loop points, setting automation modes, cut/copy/paste)
Expandable audio inputs for up to 26 simultaneous inputs. S/PDIF and dual S/MUX ADAT Lightpipe inputs provide 18 additional recording inputs
16 channels MIDI I/O
Tweak: Alesis is the new i/o king of the hill, now getting into control surfaces.
Alesis is also showing USB 2.0 versions of their Multi-Mix 16 and 8 channel Mixers
M-Audio
recordings of over a dozen vintage string machines > classic instruments in software
layer and process any two sounds > totally unique sounds
3,200+ samples > meticulous detail
fully programmable with 500+ presets > instant gratification, long-term flexibility
stand-alone or host operation > RTAS (Mac/PC), VST (Mac/PC) and AU (Mac)
includes emulations of Freeman String Symphonizer, Eminent 310, ARP Omni II, ARP Quartet, Crumar Multiman, Polymoog, Elka Rhapsody, Korg PE2000, Logan String Melody, Eminent Solina, Roland RS202, Yamaha SS30 and more
over 3,200 individual samples from over 60 Sample Sets
layer any two Sample Sets with synth processing and master effects
fully programmable with 500+ factory patches
stand-alone or host operation—RTAS (Mac/PC), VST (Mac/PC) and AU (Mac)
Kik Axe
Built with Way Out Ware's award-winning analog-modeling technology, the KikAxxe brings together a faithful emulation of the classic ARP Axxe synthesizer, analog-style 16-step sequencer, programmable drum machine and a tape delay effect. Modern conveniences include presets, MIDI sync and comprehensive MIDI-mapping capabilities. Compatible with RTAS, VST and AU hosts. Mac/PC.
Torq Xponent is a cutting-edge performance system that brings professional-grade control to the world of computer-based DJing. The package includes the Torq DJ software that's revolutionizing digital DJing and the Xponent hardware control surface that puts all that power right at your fingertips. Compatible with Mac and PC.
Tascam
2488mkII 24 track, 24 bit Recording Workstation
Get Price and expected availability
The 2488mkII is the follow-up to the best-selling, simple-to-use 24-track recording and mixing workstation for home studios. Like its predecessor, eight inputs can be simultaneously recorded into the XLR and 1/4" inputs - enough for a whole band. 19 physical faders control mono and stereo channels without scrolling through pages for quick and easy mixing. Each channel has 3-band EQ with a parametric mid-band and access to three built-in effects processors, including reverb and multieffects.
After the final mix is recorded to the dedicated stereo master recorder, the built-in CD-RW drive can burn a CD master in addition to backing up the hard drive and importing and exporting WAV files. New features from the 2488 include a larger hard drive, an all-new LCD display, new guitar effects and improved CD mastering capabilities.
Tweak: Looks like a new paint job too. I love the original 2488. If they even make a small improvement and keep the price the same they will continue to have a winner.
Fire One Firewire Audio Interface
2-in / 2-out FireWire Audio Interface
Up to 192kHz/24-bit audio resolution
Two XLR mic inputs with phantom power and pad
1/4" high impedance input for recording guitar direct
Two 1/4" stereo headphone outputs
Weighted, backlit jog wheel
Transport control keys: rewind, fast-forward, stop, play, record
Tweak: Awesome! I predict they will sell quite well.
Fostex
16 recording tracks to hard drive
4 track simultaneous recording
FAT32 Disc Format and WAV Recording
4 XLR Inputs - With phantom power and trim control
Analog Guitar Distortion
Direct CD-RW Connection via USB
Yamaha
Get Price and Expected availability
Tone Generator AWM2 with Expanded Articulation
Polyphony 128 notes
Multi Timbral Capacity 16 Parts
Wave 355MB (when converted to 16-bit linear format), 2,670 waveforms
Voice Preset: 1,024 Normal Voices + 64 Drum Kits
GM: 128 Normal Voices + 1 Drum Kit
User: 128 x 3 (selected and copied from Preset bank) Normal Voice + 32 Drum Kits
Tweak: The original Motif had a 85MB rom, the ES had 175MB. Now we are up to 355MB. Good. Keep it coming. Uh, New paint here too.
Tone Generator AWM2
Polyphony 32 notes
Multi Timbral Capacity 16 parts
Wave 70MB (when converted to 16-bit linear format)
Voice Preset: 418 normal voices + 22 drum kits
GM: 128 normal voices + 1 drum kit

MG-Series Mixers
There are 4 different new MG series mixers listed on zZounds, an 8, 10 and 2 12 channel offerings. Get the prices and dates they will be available.
Yamaha DTXPRESSIV Special
The latest generation of Yamaha electronic drums is now available! The all-new voice bank contains samples of Yamaha's Oak Custom, Maple Custom, and other acoustic kits. New cymbal pads offer improved response and feel. A fully programmable click, Groove Check, and Rhythm Gate help improve your skills and practice.
50 preset and 20 user kits
427 drum and 22 keyboard voices
TP100 3-zone snare pad with controller knob
Tweak: A better looking and more ergonomic brain. Compare to the DTXPRESS III
Go To Page: Go To Page: 1 2 3 4 5 6 7 8 9 10 11 12 13 14 15 16 17 18